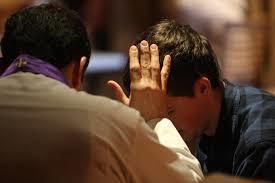 "Reconciliation or Confession is the means by which we obtain pardon from God's mercy for the offenses we have committed against him and reconciled with the Church which has been wounded by our sins. It is also known as the sacrament of conversion because it makes present Jesus' call to conversion which is the first step in returning to the Father from whom we have strayed by sin. In it we find God's unconditional forgiveness; as a result, we are called to forgive others." -Catechism of the Catholic Church
Confession Times:
Monday –Wednesday: 8 AM- 8:25 AM
Thursday: 8 AM-8:25 AM and 6 PM
Friday, 8 AM- 9:15 AM
Saturday: 9:00 AM- 10:30 AM
Confessions are held in various places, depending on the priest. Please wear a mask and wait in the front hallway for directions. You may also arrange them by appointment: contact the priests at stjoeathens@gmail.com or calling the Sacramental "Emergency" phone line at 470-377-2153.
For more information, submit the Inquiry Form or contact the Parish Office: 706-548-6332