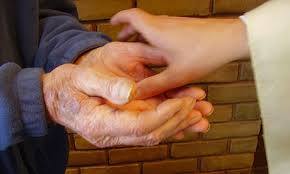 "By the sacred anointing of the sick and the prayer of the priests the whole Church commends those who are ill to the suffering and glorified Lord, that he may raise them up and save them. And indeed she exhorts them to contribute to the good of the People of God by freely uniting themselves to the Passion and death of Christ." —Catechism of the Catholic Church
If you are ill and would like to request a visit from a priest or deacon, call the Parish Office at 706-548-6332 or via the Sacramental Inquiry Form.
Sacramental Emergency
There are some times when a situation may arise that requires emergency access to the Sacrament of the Anointing of the Sick, (formerly and more commonly known as 'Last Rites') such as a sudden illness, accident or imminent death. In those cases, please call our Sacramental Emergency Line for a priest on call:
470-377-2153
Please leave a voicemail for someone to return your call.