We are excited to announce a brand new Built program: Our new program will be held outdoors, like a family picnic!
Here's how it works:
7:00 PM: Families may begin arriving and set up their own picnic site on the Rectory Lawn. Bring low lawn chairs, blankets and your family's picnic style dinner or snacks/beverages.
8:00 PM: We will begin moving inside to the gym for viewing the evening's episode
9:00 PM: One of our priests will be on hand to give you thoughts on the show and lead a brief discussion.
9:30 PM: Tidy up and head for home!
We have selected The Chosen as our video series. Each episode offers a special glimpse into what the daily and extraordinary life of Jesus Christ and his disciples might have looked like 2000 years ago in a whole new perspective…from the eyes of the people who were there. Directed by Dallas Jenkins with VidAngel Studios, we will air a new episode every two weeks.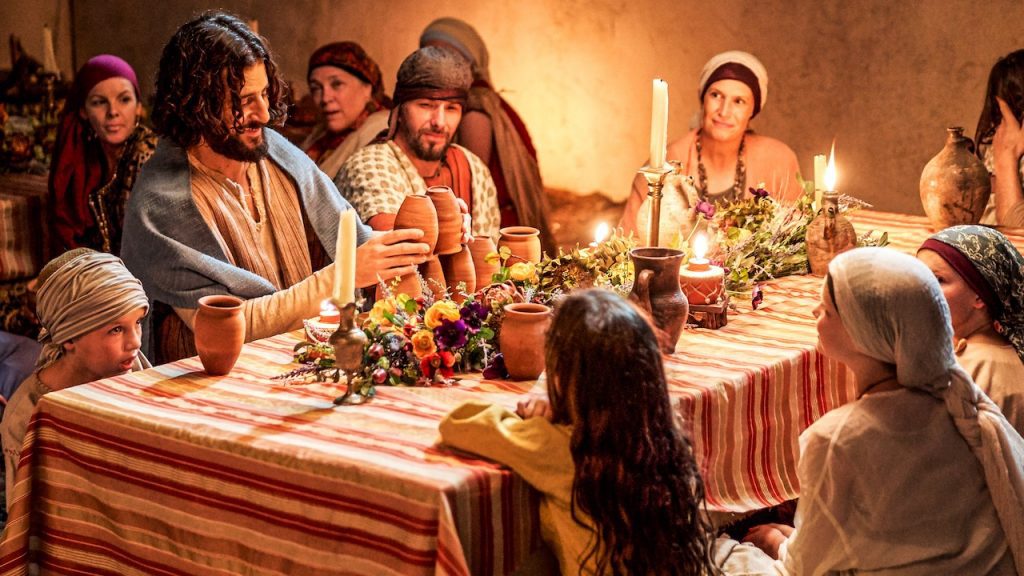 The Chosen:
April 9-Episode 1: I Have Called You By Name
April 23- Episode 2: Shabbat
May 7-Episode 3: Jesus Loves the Little Children
May 21-Episode 4: The Rock on Which it is Built
June 4-Episode 5: The Wedding Gift
June 18-Episode 6: Indescribable Compassion
July 2-Episode 7: Invitations
July 16-Episode 8: I Am He
Built is a Family Formation Production Series begun as a fun evening for the whole family, enjoying live music, sharing a meal together and then watching a video followed by a brief discussion.
*Photo credit: Jesus at wedding with kids.jpg Jesus (Jonathan Roumie) in a scene from episode 5. CC Attribution – ShareAlike https://creativecommons.org/licenses/by-sa/4.0/